The Alliance welcomes its new Chair, Ian Tennant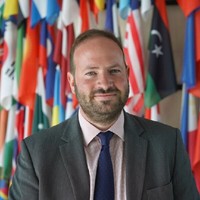 Message from incoming Chair of the Board of the Alliance of NGOs.
At the Alliance AGM on 24 May 2023, I was elected as Chair of the Board of the Alliance of NGOs on Crime Prevention and Criminal Justice. I am grateful to the membership for the trust they have placed in me to fulfil this role.
I take over from Dr Anna Alvazzi del Frate, who served with distinction for the previous four years as the Chair. It cannot be overstated how much of a contribution Anna has made to build a platform for engagement for civil society to engage at the CCPCJ and other relevant fora at the UN.
We are very lucky that she has been elected to a new mandate as Vice Chair so we will continue to count on her support and engagement as we go forward into future months and years.
I also pay tribute to other outgoing Board members who have decided not to seek re-election. Ingeborg Geyer has served for four years as Treasurer, providing us with access to her years of NGO-UN engagement experience, and has ensured that the Alliance has built its operational capability. Philip Reichel has served for four years as Vice Chair, carrying out vital coordination including leading efforts to draft the civil society statement at the 2021 Crime Congress.
I welcome our new Secretary – Yuliya Zabyelina of the Academy of Criminal Justice Sciences, and our new Board Member Femi Oyebode, of Rural And Urban Aid For Youth Development Initiatives Nigeria. I look forward to work with them and with our existing board members.
As we look forward. I am very aware and appreciative of the long history of the Alliance and its role in facilitating civil society engagement with the UN on crime and justice issues. And I have served on the Board for two terms as Vice Chair, having worked closely with Anna. I aim to continue on the path she has lead us on so far - and with the same spirit of collaboration, cooperation and dedication to ensuring civil society has a voice and has the access to use it effectively.
There is a shrinking space for civil society in various communities and countries around the world, and this is also clearly evident at the UN. So as we look ahead, as civil society we need to defend our space when it is challenged, expand it when we can, and demonstrate our value to member states through substantive and credible contributions.
I invite any interested non-government organizations to join the Alliance and increase our global pool of expertise and networks for the benefit of multilateral policymaking on crime and justice issues, and for the benefit of our societies and communities.
Ian Tennant was nominated as Alliance Chair by the Global Initiative Against Transnational Organized Crime (GI-TOC), where he works as the Head of Vienna Multilateral Representation and Resilience Fund. He previously served as a member of the UK's Permanent Mission to the United Nations in Vienna.
30 May, 2023